Festival of the Lost is about remembering what we have lost, the moments that made us, and celebrating what we have.
Festival of the Lost is a limited-time live event in Destiny 2 where Guardians laugh in the face of death and wear masks as they fight back against the encroaching darkness.
Once new players have met the above requirements, they can speak to Eva Levante in the Tower Courtyard to receive a quest. After this quest has been completed, players will be granted access to explore Haunted Sectors and can earn Festival of the Lost rewards.
---
Haunted Lost Sectors

"An Exo and a Vex Mind have merged to become something... new. A Guardian on Nessus is being hunted for their Ghost, and headless creatures prowl through the dark chasms of the Moon. Grab your favorite mask, join a fireteam, and embark on tales of terror."
In order to launch into Haunted Sectors after they have been unlocked, players must select the Haunted Sector node in the Tower destination map. 
Additionally, players may launch directly into the matchmade Haunted Sector from the Tower Courtyard by interacting with the Haunted Sector mission totem next to Eva Levante.


---
Rewards from Eva Levante and the Book of the Forgotten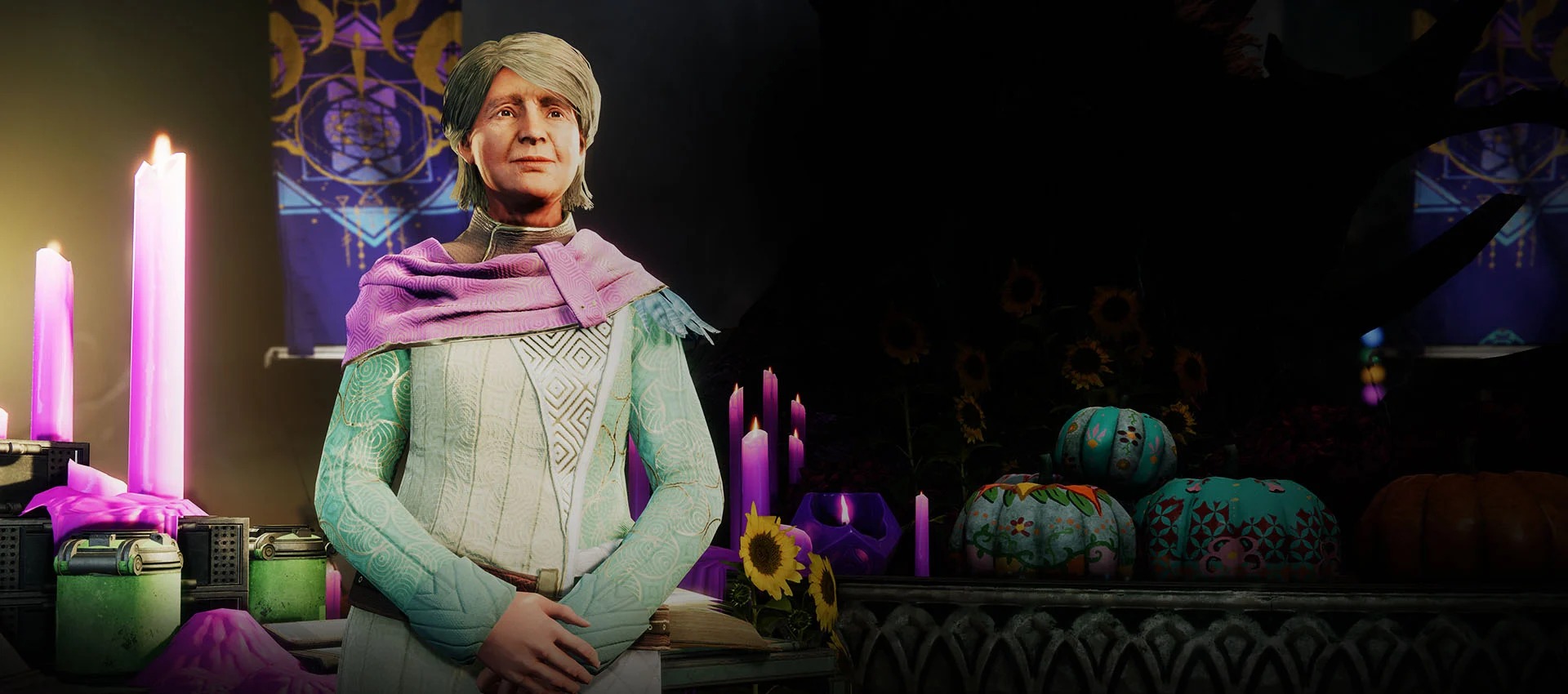 "No longer an outfitter for heroes of the Tower, Eva now devotes her time to making sure Guardians enjoy seasonal events."

Once players unlock access to Haunted Sectors, they can purchase bounties, masks, and other Festival of the Lost rewards from Eva Levante. Rewards may be purchased using candy, which can be earned by defeating enemies and completing activities during Festival of the Lost while a mask is equipped.
This year's Festival of the Lost also brings a familiar vendor, the Book of the Forgotten. The Book of the Forgotten contains lore, which can be purchased with Manifested Pages. Manifested Pages are created from Spectral Pages, which are earned in Haunted Sectors, and are created by defeating Headless Ones. Manifested Pages can also be obtained from chests at the end of Haunted Sectors.
| | | |
| --- | --- | --- |
| Candy | Spectral Page | Manifested Page |
Festival Bounties
During Festival of the Lost, Eva Levante offers Festival Bounties which can reward players with XP, Bright Dust, Glimmer, and candy.




Weekly
Bounty (2)



Daily
Bounty (4)



Additional
Bounties

Masks
Throughout the Festival, Eva Levante offers a set of masks that players may earn by completing Event Challenges. Furthermore, masks earned during previous Festival of the Lost events can also be equipped by players who earned them. All masks must be equipped as ornaments on the Masquerader's Helmet, which is offered by Eva Levante for 100 Glimmer.


Clovis Bray
Mask

Mara Sov
Mask


Nimbus
Mask
Calus
Mask

Pouka
Mask

Tormentor
Mask

Rewards
During Festival of the Lost, Eva Levante offers players special rewards to show off the spirit of the Season. The Masquerader's Helmet, which is required to equip masks, only contributes to players' Power while Festival of the Lost is active. Additionally, completing Haunted Sectors has a chance to drop Eerie Engrams. Guardians will be able to open these engrams for a variety of rewards, or can choose to focus decrypt them for exotic armor and specific Festival weapons.





Lost
Memento



Masquerader's
Helmet



Epic Mystery
Grab Bag



Mystery
Grab Bag

Acosmic


Horror
Story


Jurassic
Green


Mechabre
Sniper

For purchase costs and unlock requirements, please check with Eva Levante in the Tower Courtyard.
---
Event Card
Event Cards are available for free to all players and can be accessed by interacting with Eva Levante in the Tower or via the Quests tab during live events. Rewards will be accessible throughout the event. Once the event ends, the Event Card rewards will not be able to be claimed.
---
Festival of the Lost Vital Information and Known Issues
For the latest vital information and known issues in Destiny 2, please see our pinned thread in the #Help forum.