Let the Games Begin!
Guardian Games is an event for all Destiny 2 players to celebrate their favorite class as they compete against one another to see whose class reigns supreme. The winning team will have bragging rights, as well as a commemorative statue on display at the Tower for the entire year.
---
Objective
During Guardian Games, players will compete in a series of class-based activities to determine which class is the best. Players participating in Guardian Games should focus on either hitting a score threshold by achieving strike scores through the Guardian Games playlist, or by banking Medallions at the Tower Podium.
Upon reaching the score threshold players will be rewarded a special glow while at the Tower. The player at the Tower with the highest weekly score will receive a unique glow. These glows remain active until the weekly reset, or until Guardian Games ends. Players can stay up to date on which Class is winning by checking the Tower Podium, the various Class Flags placed at the Tower, as well as the Guardian Games calendar accessible in-game.
Weekly Ceremony Event
On the Friday of each week, the ceremony will go live in the Tower. Points accumulated by each class during the week will determine the winner of each week's Ceremony event. Players will receive rewards and a Laurel Crown glow that is active when in the Tower, which will remain until the next Ceremony event or until Guardian Games ends. Additionally, players' class items will also change colors to show their current standing after the Ceremony event, being gold, silver, or bronze.





Medallions and Contender & Platinum Cards
Players can earn Medallions by completing Contender or Platinum Cards (which can be purchased with Glimmer at the Tower from Eva) or ritual activities with your class item equipped. Completing any of the Platinum Cards will award a Platinum Medallion while completing the Vanguard Playlist, Crucible, Gambit, Seasonal Content, or Neomuna Contender Cards will award a Gold Medallion. Players should store their Medallions in the podium found at the Tower in order to earn event rewards and contribute towards their class standing!
PLEASE NOTE!
If the Medallion Case is full, Medallions earned through claiming Triumphs will be lost.
Medallion Case
Contender Cards:
| | | |
| --- | --- | --- |
| Vanguard Playlist | Crucible | Gambit |
| | |
| --- | --- |
| Seasonal Content Activities | Neomuna Activities |
Platinum Cards:
| | | |
| --- | --- | --- |
| Trials of Osiris | Nightfalls | Raids |
| | | |
| --- | --- | --- |
| Higher Difficulty Neomuna Activities | Higher Difficulty Seasonal Activities | Lost Sectors |
The Event Card provides a way for players to earn event-specific rewards and an Event Title by completing Event Challenges.
Players will have the opportunity to acquire a free or paid-for upgraded version of the Guardian Games Event card from Eva.
When a player completes and claims an Event Challenge, this also instantly claims the corresponding Triumph in the Event Title screen. After a player completes all Event Challenges, they can claim the Event Title and unlock Gilded progress. The Event Card is only accessible while an event is active.

Eva also offers three different types of Guardian Games Bounties which will reward players for completing them: Weekly Bounties will reward XP, Bright Dust, and Glimmer, while Daily Bounties will reward XP, and Additional Bounties will reward XP and Bright Dust.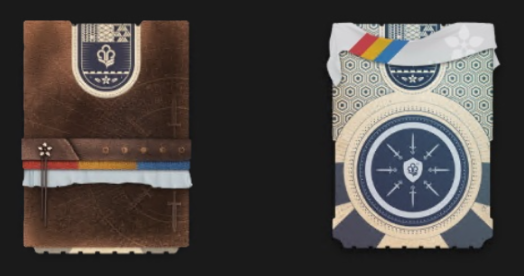 Guardian Games 2023 Event Card
| | | |
| --- | --- | --- |
| Weekly Bounty | Daily Bounty | Repeatable Bounty |
Class-Based Matchmaking & Activities
Crucible: Supremacy
Compete in a special Guardian Games Class-based matchmaking version of Supremacy where you'll be matched specifically with a team of Guardians playing the same Class (Titan, Hunter, or Warlock). The player's objective is simple, pick up crests from fallen opponents, or deny opponents from scoring. Team points earned in Supremacy will contribute towards your weekly Supremacy quest. Unlock chest rewards in the Tower containing event gear and glows by passing specific score thresholds. Tower chest rewards reset each week.
Guardian Games Ops & Scoring Playlist
Launch into the Guardian Games: Ops & Scoring playlist and earn as many strike Medals as possible to achieve a high score. Unlock Tower chests containing event gear, buffs, and glows by passing high score thresholds listed in the Weekly Guardian Games Ops quest. Each week, Tower chest rewards will reset and players will get to experience a different Guardian Games: Competitive strike being highlighted.
Players with the highest score in Guardian Games Ops and Supremacy logged at the Tower receive the Best in Tower Glow for each respective activity.
---
Vital Information
The event starts on May 2, 2023, and ends on May 23, 2023, during the weekly reset.
If the Medallion Case is full, Medallions earned through claiming Triumphs will be lost.
For the latest information on known issues discovered after Guardian Games has gone live on May 2, 2023, players should look for our vital information thread in the #Help forum.
Helpful Links